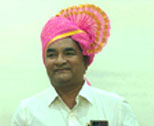 I feel great pleasure to introduce Deshbhakt Babasaheb Bhahusaheb Khanjire Shikshan Sansth's Night College of Arts & Commerce, Ichalkaranji as Co-educational renowned college in Maharashtra which was established in 1983. In today's life academic excellence is most important.
Night College of Arts and Commerce, Ichalkaranji has a nice campus with an open and dynamic system of education. We are committed to provide of quality higher education in disciplines of Arts and Commerce at undergraduate level with the blend of creativity, research and innovation. To enable students to acquire strong academic knowledge with assertive viewpoint, communication skills and all round personality having a seed of core values to face the global requirements successfully
The College is striving hard with all its resources to meet the demands and challenges in higher education. We all, in this College, are committed to high morals in academic pursuits and have a vision to project and develop the College into a Centre of Excellence to meet the Industrial, Cultural and Socio-economic needs. Faculty and Staff alike are always willing to lend a helping hand to the students in need and everyone in the institute is easily approachable. The system and procedures are simple and student friendly so as to enable them to solve their problems quickly We would endeavor to nurture our student by lacing him/her with skills, knowledge and attitudes needs to survive and contribute to the global economy and for the betterment of mankind.